The new Tight Economy puts the game's focus on money. Players are forced towards decision-making that favors maximum monetary gains by risk taking. To achieve this there has to be a constant pressure on the economy created by 1) Shortage 2) Costs and 3) Opportunities:
Shortage
A players own maximum money is capped at 10.000,- USD.
Every weapon starts with one magazine only to reload.
Loser reward is decreased.
Costs
Prices for rifles have to increase by around 40%.
New expensive -but useful- equipment is introduced:
Trauma Plates, Rifle Grenades, Specific Ammunition
Opportunities
A timed detonation yields the highest detonation reward, followed by a remote detonation and suicide bombing with the lowest.
Defusing a timed detonation yields the highest reward, followed by remote bomb defusals and suicide defusals as the lowest.
A new team account into which players can deposit or withdraw money:
The account should hold up to 30.000,- USD; compensating the individual cap change.
Players can deposit simultaneously at round-start into the account.
Players in the account management interface can withdraw money at round start.
In the account management interface, players can buy upgrades that affect the team.
Only one team member at a time can access the account management interface.
Money in the team account gets compounded by 10% after each round.
This approach leads to the following:
The Terrorists risk-taking propensity for difficult wins increases.
Non-Rifle weapons stay interesting even through mid and late game.
Teams need to coordinate their finances to increase their chances of winning.
The Tight Economy brings new options to spend and make money – but you can't have it all.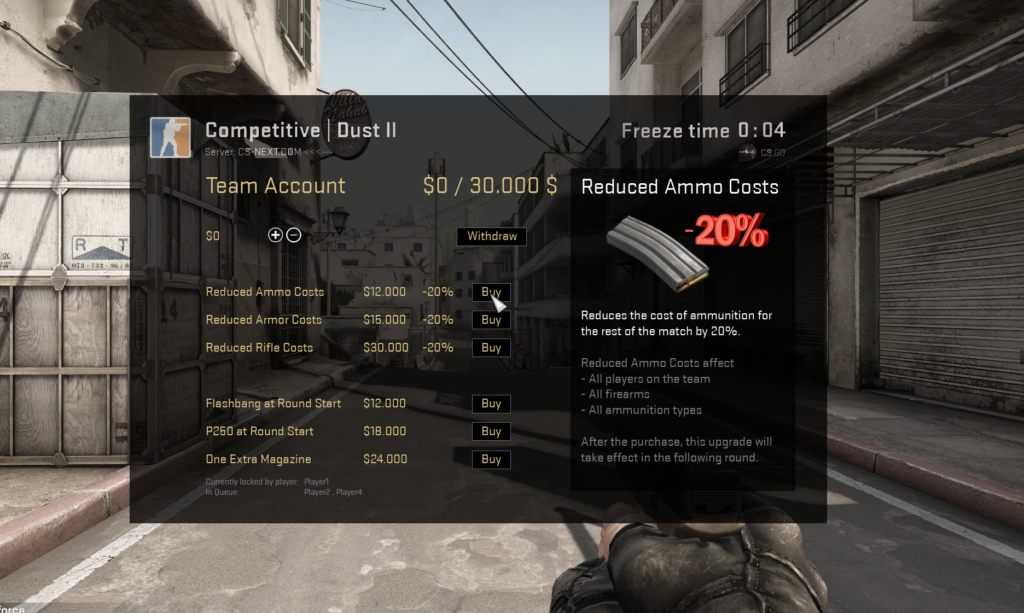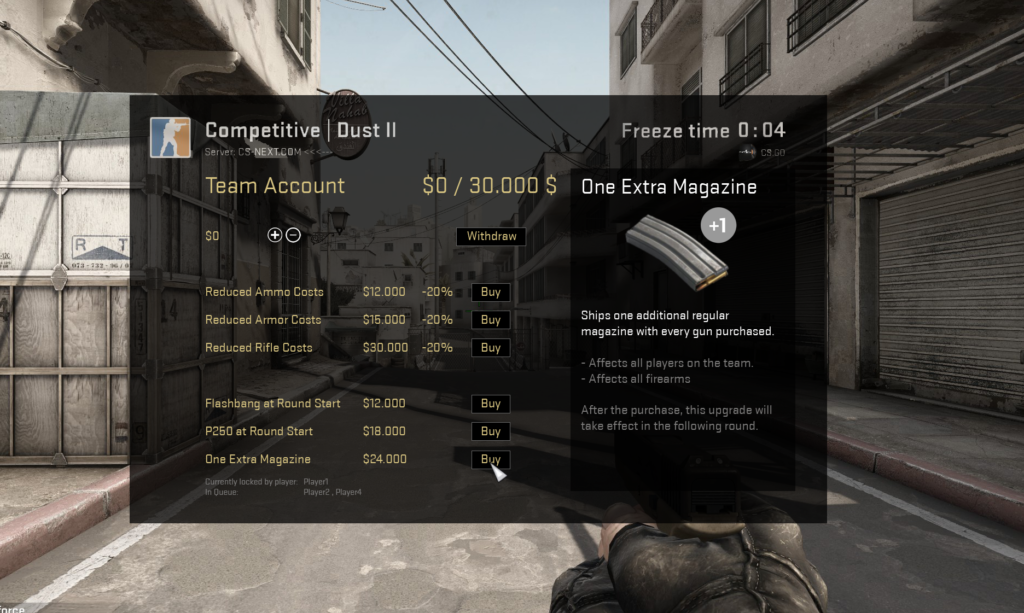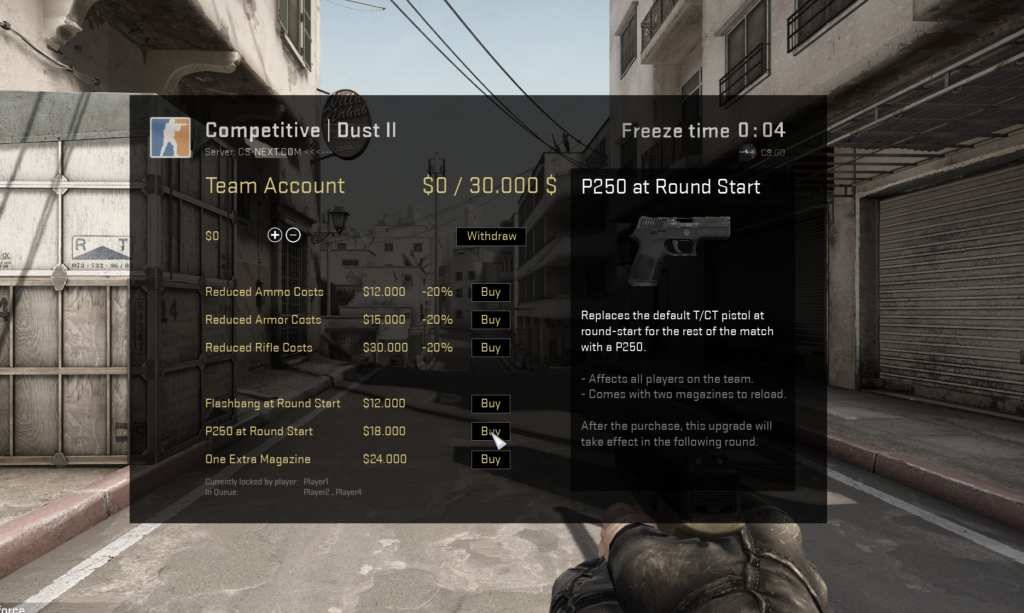 Adjusted Costs and Rewards
Costs
Equipment
Old Cost
New Cost
Change
Glock-18
200
200
N
USP-S
200
200
N
P250
300
300
N
Five-Seven
500
500
N
Tec-9
500
500
N
CZ-75
500
500
N
Dual Berettas
400
400
N
Desert Eagle
700
700
N
R8
600
600
N
MP9
1250
1250
N
Mac-10
1050
1050
N
PP-Bizon
1400
1400
N
MP-7
1500
1500
N
UMP-45
1200
1200
N
P-90
2350
2350
N
MP5-SD
1500
1500
N
FAMAS
2250
3150
Y
Galil AR
2000
2800
Y
M4A4
3100
4350
Y
M4A1-S
3100
4350
Y
AK-47
2700
3800
Y
AUG
3150
4400
Y
SG-553
2750
3850
Y
SSG-08
1700
2350
Y
AWP
4750
6900
Y
SCAR-20
5000
6200
Y
G3SG1
5000
6200
Y
NOVA
1200
1200
N
XM1014
2000
2000
N
MAG-7
1800
1800
N
Sawed-Off
1200
1200
N
M-249
5200
3500
Y
Negev
1700
3100
Y
HE-Grenade
300
300
N
Flashbang
200
200
N
Smoke
300
300
N
Decoy
50
50
N
Molotov
400
400
N
Incendiary Grenade
600
600
N
Kevlar
650
650
N
Kevlar+Helmet
1000
1000
N
Trauma Plates
-
400
Y
Zeus x-27
200
200
N
Defuse Kit
400
400
N
Rifle Grenade - HE
-
1400
Y
Rifle Grenade - Smoke
-
1200
Y
Rifle Grenade - Flash
-
900
Y
Regular Ammo Clip
-
10% of
weapon price
Y
Hollow Point Clip
-
20% of
weapon price
Y
Armor Piercing Clip
-
30% of
weapon price
Y
Rewards
| Event | Old Reward | New Reward | Entity | Change |
| --- | --- | --- | --- | --- |
| Timed Bomb Plant | 300 | 300 | Individual | N |
| Remote Bomb Plant | - | 300 | Individual | Y |
| Suicide Vest Equipped | - | 1200 | Individual | Y |
| Timed Bomb Detonation | 3500 | 3500 | Team | N |
| Remote Bomb Detonation | - | 3500 | Team | Y |
| Suicide Vest Detonation | - | 3300 | Team | Y |
| Defuse Timed Bomb | 300 | 300 | Individual | N |
| Defuse Remote Bomb | - | 300 | Individual | Y |
| Defuse Suicide Vest | - | 600 | Individual | Y |
| Defuse Timed Bomb | 3500 | 3500 | Team | N |
| Defuse Remote Bomb | - | 3500 | Team | Y |
| Defuse Suicide Vest | - | 3300 | Team | Y |
| Time Out Win (CT) | 3250 | 3250 | Team | N |
| Time Out Loss (T) | 0 | 0 | Individual | N |
| Lose 1 Round | 1400 | 1400 | Team | N |
| Lose 2 Rounds | 1900 | 1800 | Team | Y |
| Lose 3 Rounds | 2400 | 2200 | Team | Y |
| Lose 4 Rounds | 2900 | 2600 | Team | Y |
| Lose 5+ Rounds | 3400 | 3000 | Team | Y |
| Loss with timed bomb plant | 800 | 800 | Team | N |
| Loss with remote bomb plant | - | 800 | Team | Y |
| Elimination Win | 3250 | 3250 | Team | N |
| Kill | 300 | 300 | Individual | N |
| Team Kill | -3300 | -3300 | Individual | N |
| Knife Kill | 1500 | 1500 | Individual | N |
| Gore Kill | - | 3000 | Individual | Y |
| SMG Kill | 600 | 600 | Individual | N |
| Shotgun Kill | 900 | 900 | Individual | N |
| P90 Kill | 300 | 300 | Individual | N |
| AWP Kill | 100 | 100 | Individual | N |